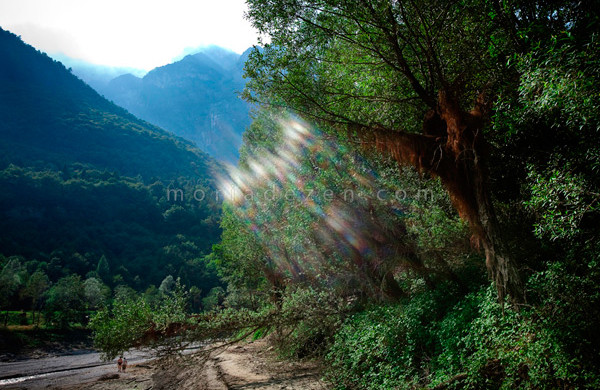 | | | |
| --- | --- | --- |
|   | con il patrocionio di |   |
Bluocean's Workshop 2014
Obiettivo reporter. Metti a fuoco il tuo talento.
"Dal Veneto al Trentino tra arte, natura e mestieri"
Diretto da Moria De Zen
FINALITA': Il Bluocean's Workshop 2014 "Dal Veneto al Trentino tra arte, natura e mestieri" – prodotto dalla Bluocean e patrocinato da National Geographic – sarà diretto da Moria De Zen, fotografa e collaboratrice di National Geographic.
Si scatterà in una terra ricca di fascino – tra paesaggi montani, collinari e lagunari, piccoli borghi e grandi città d'arte – cercando di cogliere lo spirito del luogo attraverso immagini che immortalano architetture, scorci pittoreschi, vita di strada e mestieri. Saranno giorni d'intenso e stimolante lavoro, il cui ritmo sarà dettato dalla luce: dall'alba al tramonto.
Scopo del Workshop è fornire un bagaglio tecnico per realizzare un reportage fotografico in puro "stile" National Geographic, analizzando le fasi necessarie per la sua realizzazione: dall'idea alla schematizzazione del progetto, dalla pratica fotografica fino all'editing, stimolando il senso critico – attraverso la "daily critique" – e la creatività di ognuno. Un mix tra pratica e teoria per comprendere il modus operandi che si cela dietro un reportage fotografico. Come già appurato durante le scorse edizioni del Bluocean's workshop, ci sarà anche il tempo per godere del piacere del cibo e delle occasioni di svago che il luogo offrirà, in un'atmosfera piacevole e travolgente.
PROGRAMMA E DATE: dal 5 al 9 Settembre 2014 (5 giorni, 4 notti)
Venerdì 5: TREVISO
Ore 15.30 incontro con il master, presentazione delle linee guida del workshop e lezione in aula (presso hotel in via di definizione) con lettura portfolio. Ogni corsista avrà la possibilità di presentare i propri reportage fotografici in una presentazione aperta a tutti i componenti del corso al fine di ottenere una critica costruttiva del proprio lavoro.
Sabato 6: VENEZIA – BURANO – MURANO
Partenza all'alba verso la città di Venezia. Visita di uno Squero dove sarà possibile documentare l'arte di costruire una gondola. Nel pomeriggio visita ai centri di Murano e Burano per assistere rispettivamente alla lavorazione del vetro e dei merletti. Rientro a Treviso.
Domenica 7: TREVISO – CAORLE
Partenza al mattino verso Caorle, particolare borgo marinaro dai colori vivaci. Passeggiando tra le piccole vie del centro storico o tra i caratteristici pescherecci ormeggiati nel canale che lambisce e raccoglie la città, saranno molteplici e variegati gli stimoli visivi. Nella laguna di Caorle si può ancora ammirare il volo di gabbiani e garzette che si alzano dalle barene, aironi, gru e folaghe, e i tipici "casoni"dei pescatori, costruiti in legno e canna palustre. Rientro a Treviso e lezione in aula con revisione intermedia del lavoro svolto.
Lunedì 8: TRENTO – BORGO VALSUGANA
Partenza all'alba verso la città di Trento. In mattinata tour fotografico della città. Dopo pranzo visita al famoso parco dell'Arte Sella. Prima di rientrare a Treviso verrà fatta tappa ad Asolo, uno dei borghi medievali più belli d'Italia.
Martedì 9: TREVISO
Mattinata dedicata allo shooting nel centro di Treviso e al lavoro individuale di selezione ed editing. Nel pomeriggio revisione finale del reportage prodotto. Chiusura lavori e consegna dell'attestato di partecipazione (fine lavori prevista per le ore 19.30).
Il programma del corso può subire variazioni secondo le condizioni meteorologiche o/o circostanze contingenti.
QUOTA DI PARTECIPAZIONE: € 430,00 iva esclusa.
La quota comprende:
- 5 giorni di didattica fotografica full immersion;
- Spostamenti collettivi con mezzi dedicati (escluso giorno 2: spostamenti in treno e battello a carico dei corsisti)
- Gadgets;
- Attestato di partecipazione.
La quota non comprende:
- Gli extra in genere e tutto quanto non menzionato in "La quota comprende".
DESITNATARI: foto amatori e fotografi professionisti. Le iscrizioni si effettueranno fino ad esaurimento dei posti disponibili.
È richiesta la conoscenza di base delle tecniche fotografiche. È essenziale essere muniti di fotocamera digitale, ottiche normalmente utilizzate, treppiede e computer portatile personale per la selezione e post-produzione delle immagini.
INFO E ISCRIZIONI: info@bluocean.it – tel/fax +39.0965.626646
---
| | | |
| --- | --- | --- |
|   | with the patronage of |   |
Bluocean's Workshop 2014
Be a reporter. Focus on your talent.

"From Veneto to Trentino amoung art, nature and crafts"
Diretto da Moria De Zen
FINALITIES: The Bluocean's Workshop 2014 "From Veneto to Trentino amoung art, nature and crafts" – produced by Bluocean with patronage of National Geographic Italy, will be directed by Moria De Zen, photographer and contributor to National Geographic.
We will photograph in a land full of charm – among mountain's landscapes, hills and lagoons, small towns and big Cities of Art – trying to capture the spirit of the place through images that capture architectures, picturesque views, street life and crafts.
The purpose of the course is to provide a technical background to create a photo reportage in pure National Geographic style, analyzing the steps required for its implementation: all from concept to final structure of the project, from photographic practice to the editing; stimulating the critical sensibility (through the "daily critique") and the creativity of each participant. A mix of practice and theory to understand the "modus operandi" that is hidden behind a photo reportage.
These will be days of intense and challenging work, the pace of which will be dictated by the light: from sunrise to sunset …and beyond.
As already established in the latest edition of Bluocean's workshops, there will also be time to enjoy the pleasure of food and recreational opportunities that the sites will offer us, in a pleasant and captivating atmosphere.
PROGRAM AND DATES: from September 5 to 9, 2014 (5 days, 4 nights).
Friday 5: TREVISO
15.30 a.m. meeting with the photographer master and introductory lesson (at the hotel) with a portfolio reading. Each participant will have the opportunity to present their photographic projects in a presentation open to all components of the course in order to get constructive feedback of their work.
Saturday 6: VENEZIA – BURANO – MURANO
Departure at dawn to the city of Venice. Visit in a squero where you can document the art of building a gondola. In the afternoon visit the centers of Murano and Burano, respectively, to assist in the processing of glass and lace. Return to Treviso.
Sunday 7: TREVISO – CAORLE
Departure in the morning towards Caorle, a peculiar brightly colored fishing village. Walking through the narrow streets of the historic center or between the typical fishing boats, moored in the canal that flows around the city, there will be multiple and varied visual stimuli. In the lagoon of Caorle you can admire the flight of gulls and egrets that rise from the sandbanks, herons, cranes and coots, and the typical "huts" of fishermen, built in wood and marsh reed. Return to Treviso and review of early work.
Monday 8: TRENTO – BORGO VALSUGANA
Departure at dawn to the city of Trento. Morning photo tour of the city. After lunch, visit the famous Sella Park Art. Before returning to Treviso, we will visit Asolo, one of the most beautiful medieval towns in Italy.
Tuesday 9: TREVISO
The morning is dedicated to shooting in the center of Treviso e individual work of selection and editing. In the afternoon final review of the reportage product. End of the workshop and delivery of participants' certificates.
The program may be subject to change depending on weather conditions and/or circumstances.
FEE: € 430,00 (plus taxes).
The fee includes:
- 5 days of full immersion practice;
- Group transfers by designated vehicles (except day 2: transfers with public transports are not included)
- Bluocean gadgets;
- Certificate of participation.
The fee does not include:
- Additional costs, such as hotel and meals, and anything not mentioned in "The price includes".
FOR WHO: amateur and professional photographers. Enrollments will be open until availability.
Requirements: basic knowledge of photographic techniques, bringing a digital camera, optics normally used, tripod and personal laptop for the selection and post-production of images.
INFORMATIONS AND ENROLLMENTS: info@bluocean.it – Tel-fax +39.0965.626646